We offer a wide selection of stoves with options for traditional and contemporary settings.​
So whether its cosy cottage or modern extension we are certain to have the perfect product for you.
Our range is extensive and includes gas and electric stoves with the choice of either cast iron or steel bodies.
We can also provide hole in the wall units, corner stoves and 3 sided continental products to suit individual tastes and lifestyles.
Electric Stoves are ideal for homes with no chimney and can provide a focal point for any room.
Electric Stoves are in expensive to run and easy to install and can also be used as a decorative solution – they are perfect in new homes that are energy efficient or homes with smaller rooms.
We have on offer a wide range of styles to suit any setting – from traditional to ultra-modem interiors. 
Many of the stoves feature innovative remote control options and can be integrated into home automation systems.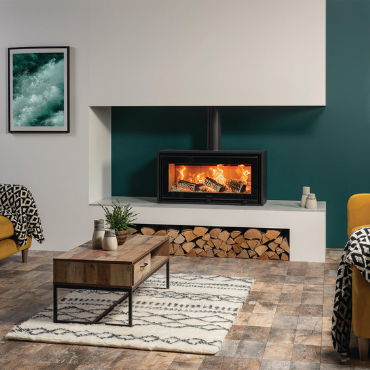 Multi Fuel Stoves
There is nothing quite like the irresistible ambience of a real wood or multi fuel stove.
Our range of modern and traditional stoves will look stunning in every setting. Designed to combine efficiency with superb flame control, these stoves are guaranteed to enhance your living space.